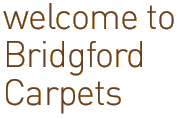 To ensure we are working safely and not placing our staff and customers under any unnecessary risk, we are operating an appointment only system for visiting our showroom.
To book a showroom visit or a measure, please contact Sam on 01159816053 or email us with your contact details and requirements to info@bridgfordcarpets.co.uk.
We look forward to welcoming you safely back to our showroom.
For the comfort of our customers, our shop staff and fitters, wherever possible, will implement social distancing. With prior arrangement, during fitting, customers do not have to be present.